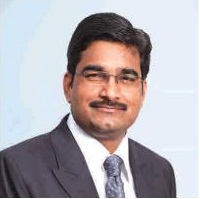 R. K. Verma (RKV Sir)
B. Tech. (IIT-Madras, 1994)
M.D., CEO & Head - Academics
My dear student,
At Resonance, we value your dream and zeal to achieve success and we are equally keen in your success in the targeted competitive examination(s) as you and your parents are.
As you enter Resonance, you enter a unique world of transformation. It is a place where we process talent through expert guidance of our faculties and comprehensive study material resulting in the transformation of this talent into success. Having picked the best of talents from across the country, we assure to provide a healthy competition to our students which grills them until they become the best. Our rigorous testing methodology and scoring system keeps alive in them, the thirst for more that loops them in a continuous progressive cycle. A students thus enters the Resonance community for once and prospers through it for a lifetime.
Established on 11th April 2001, Resonance has now become one of India's Fastest Growing Educational Institute. In this short span of 13 years, we have become one of the most respected & trusted institute for students preparing for different Competitive Examinations. With the aim of educating for a better tomorrow, we have now expanded our network to 33 cities of India. We have our Test Center network spread across 50+ cities and several schools & educational institutes are now associated with us in the Study Material & Testing Programs under our School/Institute support services.
The 'Educational Excellence' of Resonance is built upon its successful coaching methodology of one of the toughest competitive examination 'IIT-JEE/JEE(Main + Advanced)' and with the same level of rigor it has been extended to division of Pre-Medical & commerce with Dedicated Faculty, Exclusive study Material & Separate course Plan. Successfully functioning since Academic Session 2011-2012, the Pre- Medical Division has now completed 3 years of commitment in offering quality programs for the medical aspirants. Our result justifies our success story. Till now, 698 students of Resonance have been selected in AIPMT/NEET and 15 of our students have successfully taken admission in AIIMS.
These huge enrolments, the best results, the year on year growth have all been possible with the trust that our students and their parents have shown in us. As an institute, we feel really blessed by your good wishes and the word of mouth that has positively been spread by you, which has made us what we are today. And, to honor and respect this, we put in our best possible efforts to provide complete support to our students both academically and non-academically. Along with providing the best faculty and study material, we also make sure that the student is constantly motivated and properly counseled to make the best use of it all. These are our little ways to show that we care and that their care is our responsibility.
Yours truthfully,
R.K.Verma
B.Tech.(IIT-Madras,1994)
Managing Director & CEO
Head- Academics & Senior Faculty (Physics)
Resonance Eduventures Pvt Ltd.
Mobile No: 9314003894
E-mail ID: rkv@resonance.ac.in